Article published in Pune Mirror
By Mayuri Phadnis, Pune Mirror | Updated: Jan 21, 2017, 02.30 AM IST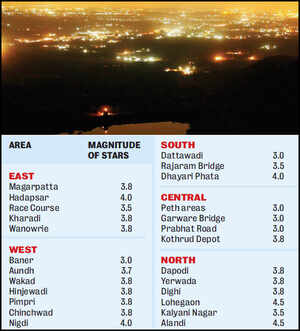 Haphazard construction and lighting makes it difficult for stargazers
Dust and artificial lighting forcing enthusiasts to travel far for clear skies
With skies often hidden by light pollution in the form of dust and excessive artificial lighting, astronomy enthusiasts in the city are forced to go far out side to see the stars.
While earlier, going to Sinhagad would suffice for clearer skies, enthusiasts now have to travel almost 40-60 km away from the city. The star gazing season, which starts post-monsoon and lasts over the winter, often slows down by the time summer arrive on account of suspended air particles which makes the sky hazy.
"While measuring the magnitude of the stars, the negative side of the scale indicates brighter stars, while the positive side shows fainter stars. The naked eye, in ideal sky condition, can see a star up to 6.5 magnitude of brightness. Until a few years ago, one could see stars of up to a magnitude of 5in areas such as Chinchwad. However, now, we have to travel much further," said Mayuresh Prabhune, a member of Khagol Vishwa, a group of amateur astronomers in the city.
The group has even conducted research to map the magnitude of stars one can see from various areas of the city. "Mostly, stars with magnitude of around 3 can be seen from the city. On the northern side, we have to go till Koregaon Bhima Village, in the east it's up to Chaufula, Nasrapur in the south and up to Paud or Talegaon in the west. There number of stars increases manifold between magnitudes 3 and 5," informed Prabhune.
Prabhune also added that air pollution — especially dust from construction — is one of the major obstructions which scatters light.
Elaborating on this, Samir Dhurde, science popularisation officer at the Inter-University Centre for Astronomy and Astrophysics (IUCAA) said, "We have the IUCAA Girawali Observatory around 80 kms away from the city. This was built with an optical telescope years ago for students so that they didn't have to travel to observe the stars. However, with light pollution increasing everywhere, it sort of defeats the purpose. Since telescopes consist of high end technology, the brightness is not a cause of concern. But, astronomers trying to do spectroscopic studies of astronomical objects get confused by the spectrum of modern street lamps. It becomes difficult to detect if the chemical element giving out this light is in the astronomical object/ galaxy or if it is coming from an earthly source. In countries like Chile, the government is coming up with laws to control light pollution."
However, light pollution is not just a bane for sta gazers and astronomers, but has far reaching impact on health as well. It is on account of this that environmentalist Sumaira Abdulali has been considering a campaign for awareness of the issue.
"The body naturally secretes melatonin, which helps us sleep at night. Excessive light interferes with your hormonal system, affecting its production. Therefore, the ill-effects of light pollution are the same as noise pollution. But, there is a need for a lot more awareness regarding this since people do not even consider as a problem," Abdulali said.