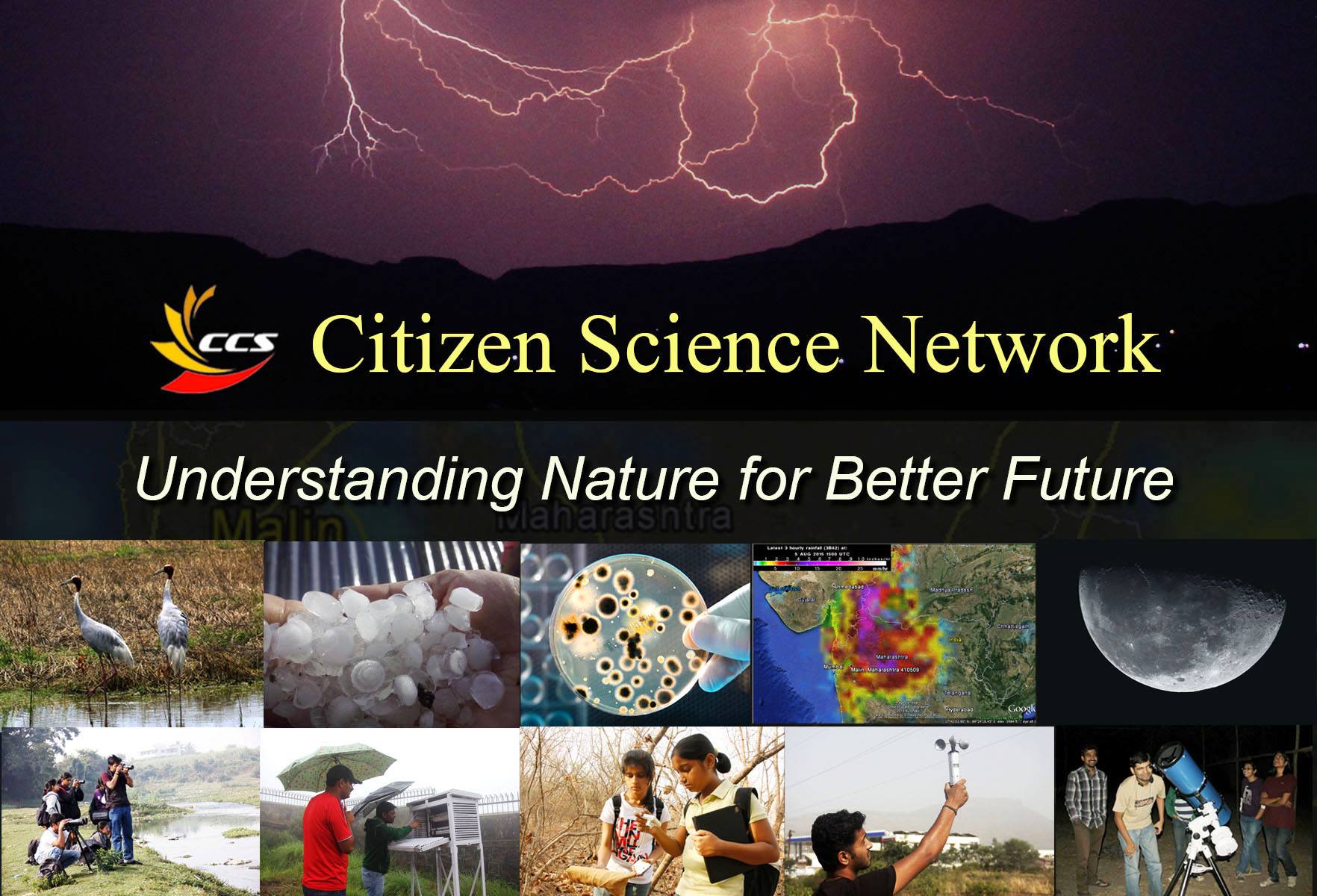 Participate in Scientific Research !
No condition about age, education and background
Register to Citizen Science Network (CSN)
—————————————-
Do you want to get involved in scientific research? You can participate and work with eminent scientist despite having any age, language or education barrier. You just need to be aware and should have ability to observe and record changes in nature around you.
Center for citizen science (CCS) is launching a Maharashtra wide Citizen Science Network (CSN). You can participate in this network by observing astronomical events, surrounding biodiversity and seasonal changes in it, changes in weather, landslide events, hailstorms, cyclonic conditions, stormy rains, floods, droughts, infectious diseases etc. All you got to do is record the observations of all such events from your place and monitor it. Your observations can be made in the form of notes, videos or photographs. These observations can bring new solutions for problems and thus implementing them for better future.
The CSN observers, who will share scientific information, will have their names enlisted in research papers, reports or journals. Along with individual participation, schools, colleges, institutes and organizations are welcomed to register.
—————————————
How can you contribute?
1) You can send observations and images of above mentioned events during the required time slot on Whatsapp or through emails. Specific guidance will be provided to you through phone calls or messages to make appropriate observations.
2) Immediate report of events like meteorite fall, lightening, landslide, hailstorms, or any undefined events.
3) Circulating appropriate information given by Citizen Science Network into citizens, schools, colleges and media nearby.
—————————————
Advantages of being a member of CSN.
1) To be a part of State, National or International level Projects.
2) Your observations can be considered in Research Papers, Reports and Scientific documents.
3) You will be updated with various astronomical and natural events, weather conditions, as well as probable natural disasters in your area beforehand. Also, latest science related news, conferences, seminars, workshops and scholarship information will be shared through whatsapp and emails.
4) You can also avail the opportunity to hear eminent scientists and interact with them.
——————————————-
How can you register in CSN?
There is no registration fee to be CSN online member.
CSN Regular Annual Membership- Citizens: Rs 600/-, For College Students: Rs 300/-
You can fill in the following details and mail us on ccspune.research@gmail.com
Please write subject as 'CSN registration' while mailing us.
Name
Address
Mobile No.
Email. ID.
Age and Occupation
Hobbies/Interests
Please mention if you have had any previous experience in research projects.
Or download CSN Reg Form and submit it during any activity arranged by CCS.
————————————–
Please share this information to all science and nature loving people to join CSN.
Apart from above mentioned information or to address your queries,
Please contact: 9922929165
– Team CCS
—————————————–